Awards
Iowa Blues Hall of Fame
Iowa Blues Hall fo Fame
(Click on the right where it says "2004 Induction Ceremony" or on the photo of Hawkeye to see the scrapbook of all photos from the ceremony. To view background/bio. material on a specific artist, use the left hand "select inductee" bar.)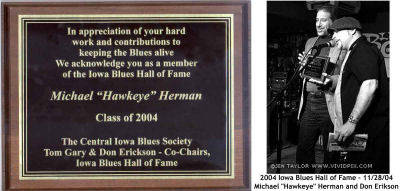 EVENT: 2004 Iowa Blues Hall of Fame Induction Ceremony
DATE: Sunday, November 28th, 2004
PLACE: Blues On Grand, 1501 Grand Ave., Des Moines (515-244-3092)
TIME: Doors open at 5 p.m.
ADMISSION: $8
MUSIC BY: Iowa Blues Hall of Fame Revue (6 p.m.), Inductees (7 p.m.), followed by all-star jam
SOUND BY: Wolfer Sound (Lee Bell)
FOOD BY: J.J. Catering (Jesse James) (5:30 p.m.)
INDUCTEES: Ronnie Brewer (AKA Moore), Tom "T-Bone" Giblin, Michael "Hawkeye" Herman, Ernest "Speck" Redd
PRESENTED BY: Central Iowa Blues Society
The 6th Annual Iowa Blues Hall of Fame Induction Ceremony will be held this year on Sunday, November 28th, 2004, at Blues On Grand, the Home of the IBHOF. Always a very memorable event, this year's ceremony will honor the 2004 IBHOF inductees - Ronnie Brewer (AKA Ronald Moore), Tom "T-Bone" Giblin, Michael "Hawkeye" Herman, and the late Ernest "Speck" Redd - for their significant musical contributions through the years.
The doors will open at 5 p.m. with free food provided by Jesse James' J.J. Catering beginning at 5:30. The cover charge for this great event will be $8, with the money going to the inductees and the IBHOF fund.
Live music will be provided by the Iowa Blues Hall of Fame Revue, featuring IBHOF members Sam Salomone (Blue Band) on organ and Gilbert Davis (Sumpin' Doo) on bass. The rest of the band will consist of Jon East (Johnny & the Rectifiers) on guitar, Dave Jenks (Scotty & the Wingtips, Brother T-Bone Groove) on guitar and sax, Nathan Peoples (Blue Band) on sax, and Mark Monroe (Fat Tuesday & the Greasefire Horns) on drums. Don "T-Bone" Erickson (the coordinator of the ceremony) will also be on hand to play some guitar. Don will share emcee duties with Tom Gary, the founder of the IBHOF. The music will begin at 6 p.m. with the band backing four different featured vocalists, all members of the IBHOF - Big Mike Edwards (Tough Enough!), Gary Jackson, George Davis (Sumpin' Doo), and Jimmy "Midnite Cowboy" Pryor (Fat Tuesday & the Greasefire Horns).
Then the induction of the Class of 2004 and presentation of the plaques will begin around 7 p.m., with performances by the new inductees along with the IBHOF Revue band. This will be followed by an all-star jam the rest of the night. It promises to be a fun night, filled with wonderful moments and memories.
This year's ceremony is sponsored by the Central Iowa Blues Society (which oversees the IBHOF), the Mississippi Valley Blues Society (who nominated Hawkeye Herman), Blues On Grand (the Home of the IBHOF), Pointblank (print media), Multi Media Imaging (IBHOF wall photos), Emily Lonigro (graphic design for posters and brochures), VividPix (IBHOF website graphic design), J.J. Catering (food), and our cash sponsors: Blues Revue / BluesWax, A Sensation Mobile Music Production, Classic Hats For Men, Highland Park Hardware, Music Circuit Presentations, Inc., KeanInsight, LLC, Jesse's Embers Restaurant, and House Calls Guitar Instruction (Brett Young). Blues On Grand will once again be donating a sizable portion of the bar sales from that night to the fund. Please thank all of our fine sponsors for their generosity and contributing to this important event.
Tell your friends and family to mark their calendars. This is not a show to be missed! Come early for the best possible seats, it will surely be a packed house. Again, doors open at 5 p.m.…so "get your face in the place!"