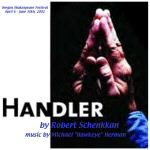 Handler - Reviews
Page 1 -- Page 2
Walking Close To Our Roots
By Bill Varble
Medford Mail Tribune - Life
The song floods out of the theater into the night:
Just a closer walk with thee
Grant it, Jesus, is my plea
Michael "Hawkeye" Herman sings as people pass into the Oregon Shakespeare Festival's New Theatre for the opening of "Handler," Robert Schenkkan's play about redemption. Mike Fitch and Bruce McKern lay down a shuffling country beat behind Herman's guitar.
Daily walking close to thee
Let it be, dear Lord, let it be.
The music settles people into the space of the play, which looks without irony at a spiritual crisis among a group of fundamentalist snake-handlers.
Something about the song pierces the heart. It's written into a review of the play, then cut. There's little enough space to talk about the play itself.
The song seemed imbued with something forlorn and bottomless. What people didn't know was that Herman's mother died the day before the play opened.
"The hardest part for me was singing 'Just a Closer Walk with Thee,'" Herman says.
His mother died in Iowa City, Iowa, Friday evening. Jews must be buried within two days of death, but when a Jew dies on the Sabbath (sunset Friday to sunset Saturday), the body is not moved until after sunset. This meant a Monday funeral. It meant that Herman, who had rare back-to-back days off, was able to attend the funeral in Iowa and be back in Ashland for Wednesday's performance.
He wrote three original tunes for the play, plus new arrangements of "Blessed Be the Tie That Binds," "Take Up the Cross," and "The Lone White Bird."
There's something about this music. I don't care whether you're a snake handling Pentecostalist or the hip literati, in a world filled with empty commercial noise, this music hits something deep and mysterious.
And roots music is on a bit of a roll just now, isn't it? The soundtrack of "O Brother, Where Art Thou?" continues a muscular run on the best-seller charts more than a year after its release. The Nitty Gritty Dirt Band's "Will the Circle Be Unbroken" was just re-issued on its 30th anniversary.
Both albums feature American music not from Nashville or Hollywood but from the wellsprings, as high and lonesome as the frost on a Cumberland pumpkin. When the Dirt Band recruited Flatt & Scruggs, the Carter Family, Mississippi John Hurt and Doc Watson for their l971 classic, people thought they were crazy, but the album sold more than 1 million copies and isn't done yet.
In a photo at Deli Down in Medford, a smiling, young John McEuen of the Dirt Band picks and grins with a young Jerry Garcia, another champion of this music. Garcia dredged up tunes by the likes of Obray Ramsey and the Rev. Gary Davis and played them for more than 20 years in various incarnations of the Jerry Garcia Band when he wasn't playing with the Grateful Dead, which itself played stretch-out versions of some of these tunes.
The roots are deep in ancient soils. We'll never know the provenance of "Just a Closer Walk with Thee" as we do that of "Amazing Grace." The melody is traditional, the Iyrics by our old buddy Anonymous.
The song probably started with African-American brass bands in the South. It turns up more widely in the 1920s, by which time European narrative structures and African rhythms and blues notes were already mixing, guitars and drums were playing with pianos and organs in Mississippi churches, and bluesmen like Thomas Dorsey were using the term "gospel."
It's hard to think of another song recorded by Louis Armstrong, Bob Dylan and Jim Nabors - plus Patsy Cline, Johnny Cash, Van Morrison, Martin Simpson, Charlie Daniels, the Blind Boys of Alabama, Jesse Fuller and Aubrey Ghent. It's popular among jazz artists and has been arranged for lap steel guitar, mouthharp and accordion. Herman's version is done in a loose country shuffle.
Tuesday in Iowa, Herman gave a eulogy and sang an old Yiddish song, then caught a red-eye back for "Handler" and "Just a Closer Walk with Thee." He figures his mom would be proud of him for trooping on.
"There's a funeral on-stage every night," he says. "I'll be playing some real blues for the next few months, on stage and off."
You can hear the proof before the play starts and the snakes come out:

I am weak, but thou art strong
Jesus, keep me from all wrong.
I'll be satisfied as long
As I walk, let me walk close to thee.
---
Handling Handler
by Molly Tinsley
Theater, The Jefferson Monthly
We file out of the New Theatre, down Pioneer Street in stunned silence.
At the Main Street light, the woman beside me takes a deep breath and declares, "Pretty awesome. But don't ask me what it all means."
The OSF production of Robert Schenkkan's Handler is spectacular-heartwrenching, bone-chilling, and cunning in the ways it dismantles the barrier between audience and action. Yet the play confuses even as it captivates. It seduces us into a bizarre and dangerous labyrinth, then almost forgets to guide us out again.
It all starts ten minutes before starting time, when the irresistible blues guitarist, "Hawkeye" Herman, sets up at one end of the avenue-style stage with his drummer and bassist and begins belting out the hymn, "Close to Thee." (Let the title be a warning.) Soon our heads are bobbing along, our feet tapping. Meanwhile, audience members still entering the theatre mingle with actor-worshipers arriving in their Church of the Holy Way. The latter call out greetings to each other before settling onto benches along the edges of the stage.
So there we are, gazing across at the other half of the audience as if it were part of the assembling congregation, and they are gazing at us, as if we were, when Brother Bob, the pastor appears, offering waves and hand shakes and bear hugs to congregants and audience alike. Then from the front of the church, Hawkeye delivers a preliminary sermon about unwrapping candy and coughdrops before the start of the service, after which the play officially begins, with Brother Bob bellowing, "Welcome to the Land of the Dyin'!"
If our impulse at that moment is to shift into reverse and put some distance between us and the proceedings, Terri uncoils a monologue about audiences of the past, whose recorded laughter still punctuates TV sitcoms. She pictures them "sittin' around, chucklin' and gigglin' and elbowin' each other. Slappin' bony knees and wipin' the tears off their bleached white skulls." Thus jerked back into our place, we surrender to the rhythmic music, the powerful sound effects, and the poignant, if strange story of a couple whose marriage was strained by a double addiction--his, to alcohol, and hers, to pious snake-handling--then broken by his accidental killing of their child.
The acting is superb. Ken Albers as Brother Bob manages to win us with an unpretentious, down-to-earth demeanor that tempers his dogmatic arrogance. Robynn Rodriguez's Terri accents her religious faith with dashes of sardonic skepticism. As her husband Geordi, Jonathan Haugan, suffers perhaps a little too relentlessly--we catch only a glimpse of the wild young man, whose exuberant physicality must have once attracted Terri--but then the script does lay its heaviest cross on him.
Act One opens with his release from prison and his reunion with Terri, whose enduring bitterness and blame soon bump him back into the only job he's ever been good at: sinner. He accompanies her to church, where, in an act of desperation, he grabs a snake for the first time, and challenges it to work its will on his fallible flesh. The snake obliges, and Geordi dies.
Three days later at his funeral, Brother Bob is struggling to assign some higher, divine purpose to his death when Geordi rises from his coffin complaining of the cold. His resurrection spurs a media onslaught, and Geordi flees into the woods with a storm brewing.
Act Two presents Terri's search for him amidst thunder and lightning, a midsummer nightmare clogged with seemingly random flashbacks. Instead of characters in action, we get characters talking to themselves, giving no sign that they grasp the implications of what they've said. In the one full-blown, dramatic scene which might propel the action forward, Geordi grapples with a demented survivalist (Armando Duran) over the sociopath's abused daughter. In destroying this man, his own worst self, and saving the child, Geordi would seem to have taken a huge step in the direction of redemption. Yet we see him next pitted against Terri in private, contrapuntal monologues, as if there has been no advance: Geordi agonizes again over the details of the daughter-killing that damned him, while Terri recalls her first handling and how safe she felt afterward-she was ten, and her daddy was passing out snakes "like candy." It doesn't register on Terri that her dear father was endangering the life of his daughter too.
Thus when Terri finds Geordi, offers him forgiveness, and invites him to live in the "here and now" of her love, we are as surprised as we are relieved. We have been waiting for some turn in the action to set limits on Brother Bob's "sink-or-swim" god of future promises, who pushes the dangerous practice of snake-handling as a direct line to righteousness. For if churches like The Holy Way offer the "ultimate religion," as the OSF program coyly suggests they might, it's in the same sense that bungee jumping offers an "ultimate sport"--a version of Russian roulette which when survived induces an adrenalin rush that feels like salvation. Terri's rejection of the "ultimate" in favor of the human may seem too sudden, but, like the love she offers Geordi, it's "all we got," our only ticket out of the tortured place the play has taken us.

Blurbs about Handler praise the pains playwright Schenkkan has taken not to "condescend" to his subject matter, but in the end, thank god, he must--acknowledge, that is, that handling a poisonous snake once a week takes much less commitment and courage than coexisting with a fellow human being in love and forgiveness, minute by minute, day after day.
---
REVIEW OF HANDLER
by Dorothy Velasco, Ashland Review
The good news is that "Handler" is a fascinating play. It causes us to examine our faith by searching the depths of our psyche. The bad news is that it closes next weekend. The Oregon Shakespeare Festival at Ashland is presenting the west coast premiere of this gripping play by Robert Schenkkan in the New Theatre.
Schenkkan is best known for his nine-play series, "The Kentucky Cycle," which won a Pulitzer Prize. When he was doing research for that series, he began learning about snake handlers. This peculiarly American religion developed in eastern Tennessee about 1909 and spread to several southern states. Today it has about 2,500 followers.
"Handler" isn't really about snake handlers per se. Rather it uses them as a metaphor for the human condition. In their church meetings, the handlers are moved to pick up poisonous snakes and surrender their fear as a test of faith.
Geordi is married to Terri, a member of the church. He attends services, but never handles the snakes. Geordi has been recently released from jail and he's trying hard to stay off the bottle. He can't hold a job, and Terri, who works as a hotel maid, barely tolerates him.
Gradually we learn that Geordi and Terri have lost a young daughter, and little by little we understand that when Geordi was drunk and angry he accidentally ran over her with his truck. How can Terri stay with him? How can she ever forgive him? How can he forgive himself?
Can Brother Bob, the leader of the church, offer any help? Surprisingly, Geordi picks up a rattler and it bites him in the neck. He lies dead for two days and at his funeral he rises, brought back to life like Lazarus. Why was he sent back? To what purpose? The mystery will never be understood, but there appears to be little comfort from God.
Geordi and Terri, who are expecting another child, finally realize they can find redemption only by loving each other, and not by counting on their prayers being answered.
The fresh ideas expressed in "Handler" are chilling, provocative and open to vast interpretation. The production, directed by Bill Rausch, is precisely focused, with excellent use of dreamlike sound effects and lighting that sculpts the playing area. The avenue seating configuration in the New Theatre makes the audience feel like part of the congregation. These snake handlers are not as alien as you might have them.
Above all, the acting is top rate. Jonathan Haugen as Geordi seems born and bred to the role. He has a tough guy veneer that thinly covers his despair and anguish. Robynn Rodriguez is equally believable and moving as Terri. Kenneth Albers plays Brother Bob without any gimmicks. He makes him a decent, caring man who is searching for answers like everyone else.
Armando Duran as a moon-shiner in the woods is more frightening than any snake, and Maya Nerenberg is convincing as a captive young girl. The old-time music of Michael "Hawkeye" Herman, Mike Fitch and Bruce McKern sets a toe-tapping tone in the church meetings.
If you don't have a chance to see "Handler" at Ashland, it's well worth catching a future production elsewhere.

This is Dorothy Velasco with the Ashland Review.
---
OSF play handles religious guilt and redemption
by Bill Varble
Medford Mail Tribune
Why does Geordi handle? After all, when you pick up a huge rattlesnake, you open a certain door.
Guilt and redemption are part of it, and good and evil, and maybe even the music, which fills these people with the Holy Ghost until they dance and shout and praise the Lord and the serpents come out of the boxes.
In "Handler," Robert Schenkkan's play about snake-handling Pentacostalists, Geordi is bitten by the huge snake and dies. When he comes back to life like Lazarus, everything is different, and yet it's not different at all.
"Handler," directed by Bill Rauch, which opened Saturday night at the Oregon Shakespeare Festival's New Theatre, is a moving examination of one man's search for forgiveness.
Geordi (Jonathan Haugan) is released from prison, but doing time has not expiated the darkness in his soul. Geordi and Terri (Robynn Rodriguez) are members of the Holiness Way Church of the Living God, a church that takes literally the Bible's declaration that " ... these signs shall follow them that believe ... They shall take up serpents; and if they drink any deadly thing, it shall not hurt them ... "
Bob (Kenneth Albers), the group's leader, says their faith is "a good way, but a hard way." These are people who work with their hands. They have a notion of original sin as real as a rock, and of a living God "as real," as Bob says, "as water."
As Hawkeye Herman's guitar whips the faithful into a spiritual frenzy, Geordi handles for the first time.
"Work your will on my flesh," he says to the serpent. Which, being a rattlesnake, promptly bites him to death.
How hard a way is this?
"The Lord's workin' his will," Terri says, "and we're stuck with it."
What Geordi saw when he was dead causes the faithful to recoil in horror. And darkens his dark night of the soul.
One note of condescension in any of this would spoil the play, and it's never sounded. The dignity of Geordi, Terri and Bob contrasts with the media circus that comes in the wake of Geordi's "miracle." Did he meet Jesus? Does he know rattlesnakes are on the way to being an endangered species?
"The news," we're told, "don't do nothin' 24 hours a day but eat."
As played by Haugen, Geordi is a man well beyond the end of his rope. Rodriguez's Terri moves from spiritual emptiness to become an almost Dostoyevskian figure as we explore the couple's relationship to each other, their brethren and God. Is she an agent of grace?
The second act pushes the narrative into the background to focus more abstractly on questions of guilt, forgiveness, love, death and faith. There are a few moments of humor, most of them around the media circus (there's a joke about Geordi needing a "ghostwriter").
There's a truly frightening scene as Geordi struggles with a man in the woods (a riveting turn by Armando Duran), who just may be the devil.
Although the play turns on Geordi's story, Terri's comes to occupy us increasingly.
In the end, forgiveness is all we get. It may be enough, and it may not, and we're not sure it's really possible.
Rauch's vision blends seemlessly with Schenkkan's, and he gets fine performances from the cast, including Albers as a preacher who makes you by God believe.
The music itself becomes a character acting on other characters, especially Herman's country-blues guitar in hymms like "The Lone White Bird" and three gospel tunes he wrote for the play.
The second act feels short. This impression is probably linked to the play's major weakness: a jarring ending that comes before we know it. Why not let the moral complexities play out in greater detail, even if the ending remains provisional? Will forgiveness really save us?
"Handler" contains adult language and brief nudity. The snakes are fake but surprisingly creepy.

"Handler" is done in the avenue configuration, with seating on either side of a long stage that's now the woods and now a backcountry church. As the first contemporary drama presented in the OSF's New Theater, which it will share with "Macbeth" through June 30, it's a fine choice.
---
Ya Gotta Have Faith
Festival opens 'Handler,' a hit for New Theatre
By Kathleen Alaks
Grants Pass Daily Courier
Themes of rebirth and renewal, faith, and the pawer of love and hope are the backbone of Robert Schenhkan's moving and disturbing play "Handler."
Powerful performances, crisp, clean direction and infectious bluegrass and gospel music are the meat of the Oregon Shakespeare Festival's production of it.
The play, which opened Saturday at OSF's New Theatre in Ashland, is a heavily symbolic exploration of the highs and lows of the human experience and the role of faith and religion in human existence.
Directed by Los Angeles-based guest director Bill Rauch, "Handler" is part Bible-thumping revival meeting, part gut-wrenching group therapy session, as an unusual religious practice becomes a metaphor for the leap of faith it takes to sustain a personal relationship.
The action is set in the Holiness Way Church, a religious sect of the Deep South that incorporates faith healing, speaking in tongues and snake handling into its worship services. The snake handling comes from a literal interpretation of the Bible verse Mark 16:17-18: "And these signs shall follow them that believe... They shall take up serpents; and if they drink any deadly thing, it shall not hurt them; they shall lay hands on the sick, and they shall recover."
Geordi (Jonathan Haugen) has just gotten out of jail and is coming home to his wife, Terri (Robynn Rodriguez). The reason for Geordi's arrest comes clear as the play progresses, but it's obvious from the start that whatever it was has caused a huge rift between husband and wife.
Geordi has problems adjusting to freedom and is unable to keep a job. Terri turns to the Holiness Way famiIy for strength, but Geordi is not as open to the church's teachings: "That's the only job I ever had around here, local sinner," he sneers at Brother Bob, the church's leader.
While Terri has been handling snakes all her life, Geordi has never participated in the practice. Yet during one evening ritual when the worshippers bring out tbe snakes - an eerie scene accentuated with shadowed lighting, riotous music and feverish shouting and hand-clapping - Geordi is bitten by a snake and dies. Two days later he is resurrected, an astonishing miracle that leads to a media frenzy and deep tests of faith.
Every aspect of this production is outstanding.
The performances are especially notable. Rodriguez as Terri is a marvel, with her Deep South accent and wounded face. She is a woman who cares deeply for her husband yet resents him unforgivably for the pain he's caused her. Haugen as Geordi is a natural, carrying his doubts about God like a perceptible weight on bis back.
Kenneth Albers is both a forceful voice and presence as the charismatic Brother Bob. U. Jonathan Toppo doubles as an eager congregant and an all-too-eager lawyer looking to manage Geordi's post-resurrection career. Armando Duran also carries multiple roles but is especially creepy as the gun-toting moonshine swilling hillbilly Geordi meets up with deep in the woods.
The set design by Richard Hay - with the audience seated on either side of the stage like bleachers - takes us inside the austere Holiness Way church, with its unadorned wood plank flooring, plain wooden benches and pulpit. Dramatic lighting and sound effects are used to set other scenes - a thunderstorm in the forest, prison, Geordi and Terri's house.
The lively bluegrass and gospel music - composed by Michael "Hawkeye" Herman and performed onstage by Herman, Mike Fitch and Bruce McKern - helps set the scenes and drive the action.
Rauch's direction is smooth and flowing, effectively using symbolic scenes to underscore the play's themes - as when Geordi stands naked before the world when he gets out of jail, shedding his prison jumpsuit for his street clothes - and effectively using glimmers of humor to keep those themes from being completely overwhelming - as when the smarmy lawyer baits Geordi and Terri with visions of book deals, film rights and the talk show circuit.

The play does contain some adult language and brief nudity and may not be appropriate for children.
---
'Handler'
by Roberta Kent
Special to the Ashland Daily Tidings
It is somehow fitting that the West Coast premiere of Robert Schenkkan's Handler should take place at the Oregon Shakespeare Festival during this Easter season. After all, Schenkkan's play is about belief, resurrection and the redemptive power of love.
Certainly, it is a play about belief. We are transported to Appalachia and the Holiness Way Church of the Living God. One of the many Pentecostal congregations hidden in the mountain hollows, the Holiness Way Church not only experiences religious fervor through song, preaching and testifying, but also through snake-handling.
The Church takes the New Testament absolutely literally and the mainspring of their worship is the passage in Mark 16: 17-18, "And these signs shall follow them that believe: In my name shall they cast out devils; they shall with new tongues; they shall take up serpents; and if they drink any deadly thing it shall not hurt them; they shall lay hands on the sick, and they shall recover."
No metaphor here. At each service, when the congregants "get" the Holy Spirit through song, dance and the mesmerizing cadences of the Reverend Bob's preaching, they reach into the box on the altar and pull out deadly snakes, handling them as an icon of their worship. It is a demonstration of trust in God's word but also a demand for God's grace.
Certainly, Handler is a play about love - both God's love and earthly love. We meet Geordi and Terri, members of the congregation. As the play opens, Geordi is being released from jail. We quickly learn that the couple has lost a child, Jessie, and that Geordi has also had a problem with alcohol. Terri was raised in the snake-handling tradition. Geordi came to it when he married her. Jessie's death has all but torn apart this marriage, making communication impossible and love a distant memory.
And, it is a play about resurrection - both of the body and the spirit. As Geordi "handles" for the first time, it seems an act of desperation rather than an act of faith. His predictable death unleashes all the bitterness, all the remorse that Terri has kept hidden inside her.
But, as the liturgy says, to God all hearts are open, all desires known and no secrets are hid. Geordi is dead but comes back, living - or half-living - once more. And there lies the rest of the story - for Terri and Geordi, for the congregation and for the audience.
Or, as Terri puts it, they are ultimately left with love and forgiveness, human and divine. Why do you believe in God's love? Geordi asks her. "Because we need it so much," she replies.
It would have been so easy for playwright Schenkkan or director Bill Rauch (coming from Los Angeles' Cornerstone Theater Company) to dismiss the Church of the Holiness Way as some kind of wacky cult. But neither is ever condescending in either their dialogue or their staging. Schenkkan discovered the sect when he was doing research for his Pulitzer Prize-winning "The Kentucky Cycle." He was mesmerized by the power and passion of their religious experience, how central it was to their lives.
Rauch uses the OSF repertory company brilliantly. Robynn Rodriguez as Terri and relative festival newcomer Jonathan Haugen as Geordi are absolutely riveting. They are never stereotypes, never simply figures mouthing lines about faith and pain and love. These are real people whose agony and redemption captures the audience from their first scene.
They are equaled by Ken Albers as Bob, the congregation's leader. Whether Albers is thundering out sermons or nearly whispering his condolences and his mortal fears, you cannot take your eyes off him. Albers most subtle gestures embody his character as much as his bible-thumping and religious ecstasy.
They are ably supported by Catherine Coulson as Alice, U. Jonathan Toppo as a media parasite and, especially, Armando Duran as a crazed moonshiner.
Behind the staging, but an integral part of it, is Michael "Hawkeye" Herman's music. Utilizing an on-stage trio of bass, drums and guitar, the music starts about five minutes before curtain. Herman gives us gospel hymns (both traditional and specifically written for this production) and a bluesy, raspy counterpoint to the play's action. Special mention should also go to Jeremy J. Lee's sound design and Alex Jaeger's costumes.
Handler is done in the "avenue" configuration of the New Theatre - that is, the audience is seated on either side of the long set. Scenic Designer Richard L. Hay effectively uses rough wood and minimal sets to create a church, a kitchen, and woods. The seating and set have the effect of bringing the audience into the action.

And, by the way - the festival assures us - those are not real snakes.
Page 1 -- Page 2